John Clinock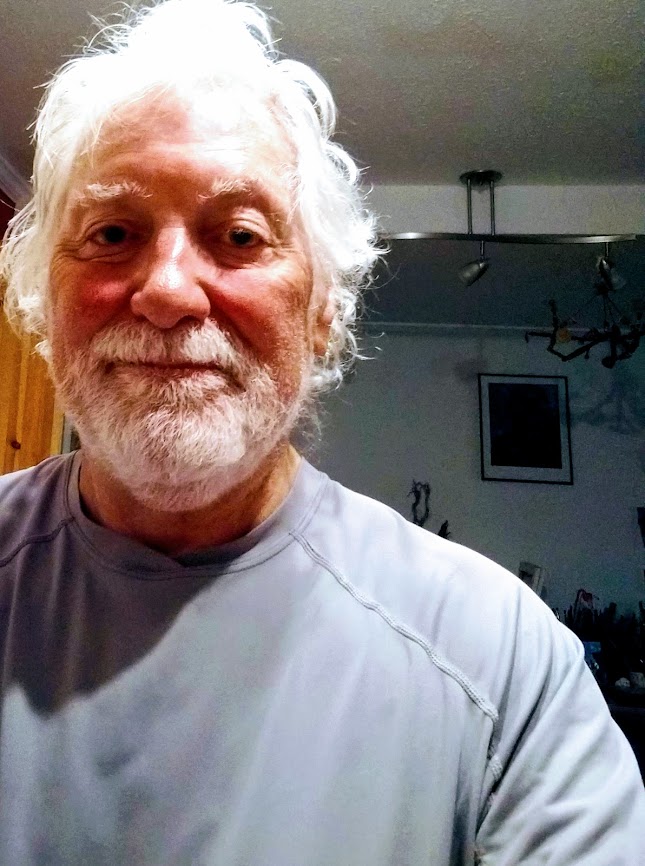 Influenced by the 'Beat' poets of the 1950s and '60s, John Clinock (he/him) left his home in the UK to travel the highways of North America. Enroute he fell in love with Canada's west coast and remains here still, living and making art in Vancouver, BC.
John failed high school art in England and didn't even consider making visual art until the 1970s in Victoria, BC. At that time, John was down and out in spirit and mind. A concerned friend suggested he apply for the same art course she was applying for: a two year foundational Visual Arts course at Camosun College. John had no portfolio and no experience, but was persuaded to try. He was accepted on the understanding that he would devote himself utterly for the full two years. He did so and discovered a deep and lasting passion for the visual arts.
Although still plagued by periods of deep depression John has continued his art studies and practice and has used his experience to teach and help others discover and explore their own creativity and find healing and joy in the act of art. After retiring from teaching high school art, John became a volunteer art and creativity workshop facilitator at Coast Mental Health and at The Gathering Place in Vancouver.
His past creative explorations have included photography, performance art, and sculpture. At present, John is working with mixed media painting. John's influences have changed over time but, he says, his most lasting and meaningful influences have always come from his students.
John describes his art as, "An emotional evocation of imagined and expressive figures that act as facets of my subconscious seeking to connect to the viewer and each other." He calls his creative process, "experiential intuition," and says that his images appear through, "investigative and meditative layering of paint, spontaneous mark making and the serendipity of gesture and brush."
John makes no initial plan, drawing, or judgement. Rather, he finds great pleasure in the surprises that result from the unknown, "emerging", as he says, "like ravens out of fog." He says, "each painting becomes a deeply personal journey, an inner dance with those aspects of consciousness that are mysterious and elusive." John hopes that viewers of his art can find visual pleasure and maybe an echo of their own story in his paintings.
---
Artwork Gallery (Click images to enlarge)
Artwork Below may be Different from what is Shown at the Exhibit