Penny N. Lim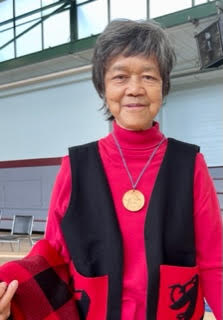 Exciting for me — following in my brothers' footsteps by going to school! Yes, our whole family attended Britannia High School. Later, on a 5-1/2 year European working holiday, I enrolled in drawing while in Germany. Home in Vancouver, I became a medical stenographer before art studies at Capilano and Emily Carr Colleges. Years later, I embarked upon my China sojourn desiring to see Dad's place of birth. Among my passions: I love history, nature, travel, creating, great cuisine, and research.
Why am I an artist? Drawing in grade one. My milestone. My friend, Marian, sent me a bookmark quoting Einstein's statement that imagination matters more than intelligence. How do I work? Such a diversity of approaches from spontaneous to structured planning. As a Southerner, I love humour. What do I do? By using words, writers create stories. Visual artists express themselves through images.
I am eternally grateful that Grandfather Lim came to Canada.
---
Artwork Gallery (Click images to enlarge)
Artwork Below may be Different from what is Shown at the Exhibit