Behind the Scenes: Meet Katalina & Fairything
As the 2023 Vancouver Outsider Arts Festival fast approaches, our team has been hard at work making all the important preparations – including an ongoing video project! Planned to release in early 2024, this project aims to showcase the journeys of talented artists and performers as they participate in the 2023 festival. We are so excited to present you the final product, so until it is completed, here are some behind-the-scenes sneak peeks at what we've been up to!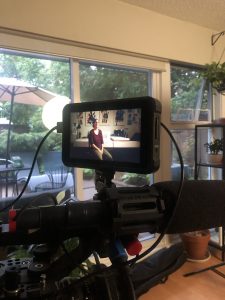 We met with Katalina Guerrero (she/her), one of the many visual artists participating in the 2023 Vancouver Outsider Arts Festival. A Mexican-Canadian artist of both informal and formal training, Katalina uses art to explore her own lifelong journey of learning and healing, while centring the theme of embodied existence. Stay tuned to hear all about what she had to share with us, coming to you early 2024!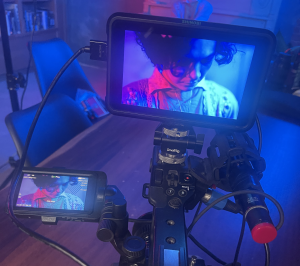 Alex K. Masse (they/them), also known as Fairything, is a singer-songwriter solo act you can catch performing in the 2023 festival. We sat down with Alex, whose music reflects synthy, sapphic, and dreamy sounds you'll want to watch clouds to. Their impressive portfolio of work includes collaborations with local pride events, arts festivals, and more, lending valuable representation to their communities as a neurodivergent, nonbinary lesbian. Be sure to stop by the festival to catch their performance!
See the artists in action at the festival this October 12-17. Learn more about the artists and performers at https://voaf.ca/2023-artists-performers-2/