Thank you so much for attending our Vancouver Outsider Arts Festival
We are celebrating our most successful festival ever! 🎉🎉
A recap of our festival numbers:
2,400+ attendees
$21,600+ in art sales over 5 days
100+ artists (visual artists, art groups, performers and more)
750+ artworks on display
⭐ A bunch of amazing community members (you!) ⭐
Special thanks to all our our amazing team, generous volunteers who donated their time and our partners and sponsors: Canada Council for the Arts, BC Arts Council, City of Vancouver, Canadian Heritage, Modo, Roundhouse Community Arts and Recreation Centre, Jamie Poh Photography, BC Culture Days, Disability Alliance of BC, Y.P Heung Foundation and our international partners Outsider Art Festival from Helsinki Finland.
And we're going on tour! The first stop on our VOAF touring exhibition is Port Moody Arts Centre from January 11-March 2024. Looking forward to seeing you at our festival in 2024 with expanded programs & events!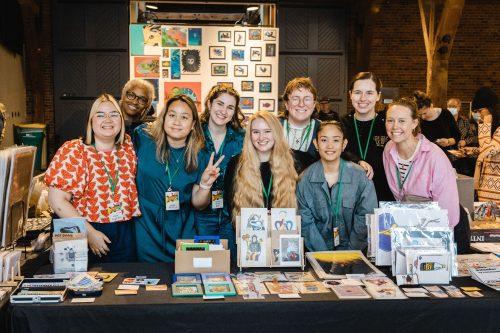 Photo of our team: Kaya, Gina, Kristin, Ava, Lizzie, Becca, Ella, Casey, Mary-Anne! 💕
Special thanks to our photographer, Jamie Poh. You can view more photos of our festival here.