VOAF 2022 Artist: Valeria Desousa (MyClaraOceans)
Valeria Desousa (she/her) is a self-taught artist showcasing paintings inspired by nature at the 6th Annual Vancouver Outsider Arts Festival at the Roundhouse from October 14-16, 2022.
During the 2020 pandemic, her aviation career came to a temporary halt. Having so much time to reflect and ponder, she decided to use the creation of art pieces as a means of therapeutic processing and cathartic release. She focuses her art on the experience of interpretation and introspection to evoke conversation and emotions.
Click here for more information about the artist.
This interview has been shortened for clarity and consistency.
How do you think your artwork connects to "outsider arts"?
I am from Toronto, not originally from Vancouver, and I moved during the pandemic, so I consider myself an outsider. I am still getting my footing in the art space and local culture. I recently started presenting myself as an artist. Most of my life has been in a logistical and operational background for work. But my desire to create and be creative has always been there.
What type of barriers do you face to creating artwork?
Since I'm somewhat new to the artwork, I wouldn't know where to begin—finding an artistic community. Of course, it's nice to create art for yourself but to see that there is an appreciation from others is always uplifting.
How can CACV help reduce these barriers and support advancement in your creative practice?
CACV can help by giving smaller creators and a chance to expose their work through workshops and strategies.
Where did you get the inspiration for the artwork you are exhibiting? Who are your influences, and what other artists inspire you?
Much of my inspiration for the artwork comes from nature, oceans and ocean goddesses and my cultural heritage (Latin-American, indigenous peoples from Latin America).
Give a brief description of your creative process.
I consider myself an intuitive painter. Sometimes I go in with no expectations, gravitate to whatever colours call to be and start slapping on some paint to canvas, then I begin to see shapes of images in the chaos and go off of that. Other times I have a vague idea inspired by lessons from nature or the animal kingdom around me. Cyclical nature of fungi, the ebb and flow of the oceans, etc.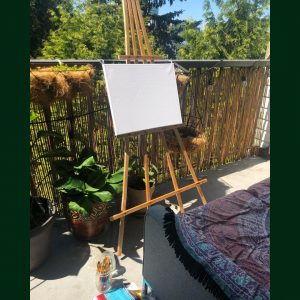 What do you get up to when you're not creating artwork?
I enjoy nature walks, swimming, climbing, archery, and creating online content as another creative outlet @myclaraoceans.
What is your next project after VOAF?
I want to eventually put up an Ocean Goddess altar for the city of Vancouver as a reminder of our coexistence with the ocean and mindfulness around sustainability.
Do you have any advice for artists interested in applying for VOAF?
Give it your all.