VOAF 2022 Artist: Al Leveque
Al Leveque (Omega Al) (she/they) is a queer sex worker showcasing illustrations and paintings that depict "colourful body horror" at the Vancouver Outsider Arts Festival from October 14-16.
Originally trained as a traditional tattoo artist, Al expanded their practice after several years and has now been practising as a professional visual artist for over 15 years. The range of their artistic skills is always growing, ranging from their studies in 2D and 3D digital art, to the many other ways their creativity has manifested; in online stores, magazines, building fronts, and on bodies all over Canada.
Click here for more information about the artist.
This interview has been shortened for clarity and consistency.
How do you think your artwork connects to "outsider arts"?
I think my artistic path has developed in non-normal ways. I began my career as a tattoo artist and have gone round to 2 and 3D animation and back to painting and illustration in the last few years. This experience makes my art both illustrative and dream-like in nature. It has a hard time finding a home; I mean, would you line your walls with colourful body horror?
What type of barriers do you face to creating artwork?
I'm a queer sex worker struggling with depression and anxiety. The world has become a more complex and often depressing place, just being aware of what's going on can be demotivating
How can CACV help reduce these barriers and support advancement in your creative practice?
I love the artistic communities I've had access to, being a life-long East Van resident, but COVID (and its mental repercussions) has largely separated me from my community. VOAF feels like a chance to connect with the larger artistic community in Vancouver as a whole. The workshops and encouragement have already been very inspiring; I've always been someone who works well with a deadline.
Where did you get the inspiration for the artwork you are exhibiting? Who are your influences and what other artists inspire you?
My initial influences were pinups and babes of the rockabilly era. Traditional tattoos you'd be familiar with, the designs of 'Sailor Jerry' (Norman Collins), popularized by a brand of rum that came out in 99, and the neo-traditional work of Ed Hardy made famous by douchebag rhinestone t-shirts everywhere. Regardless of what it became, his skill in composition and use of space influenced my love of Japanese Oni-masks, Koifish, snakes and skulls. Tattoo and burlesque had me drawing all types of bodies and falling in love with the human form. But my love of horror and surrealism truly inspires the work I'm exhibiting at VOAF. Dali and Luis Buñuel. Dadaism. Ren and Stimpy. Although it disturbs us, all the oddities of human perversion and the many tangents of fascination we can't look away from.
Give a brief description of your creative process.
I have an enormous desktop folder full of inspiration. I will often explore artworks and images that drew something out of me when I saved them and combine them with the theme I'm trying to capture. Then, with those images in mind, I'll frame out the forms and line a rough drawing to be painted and relined. I do it over several sessions and sometimes even paint entirely in black light; my neon inks pop in a purple-blue glow.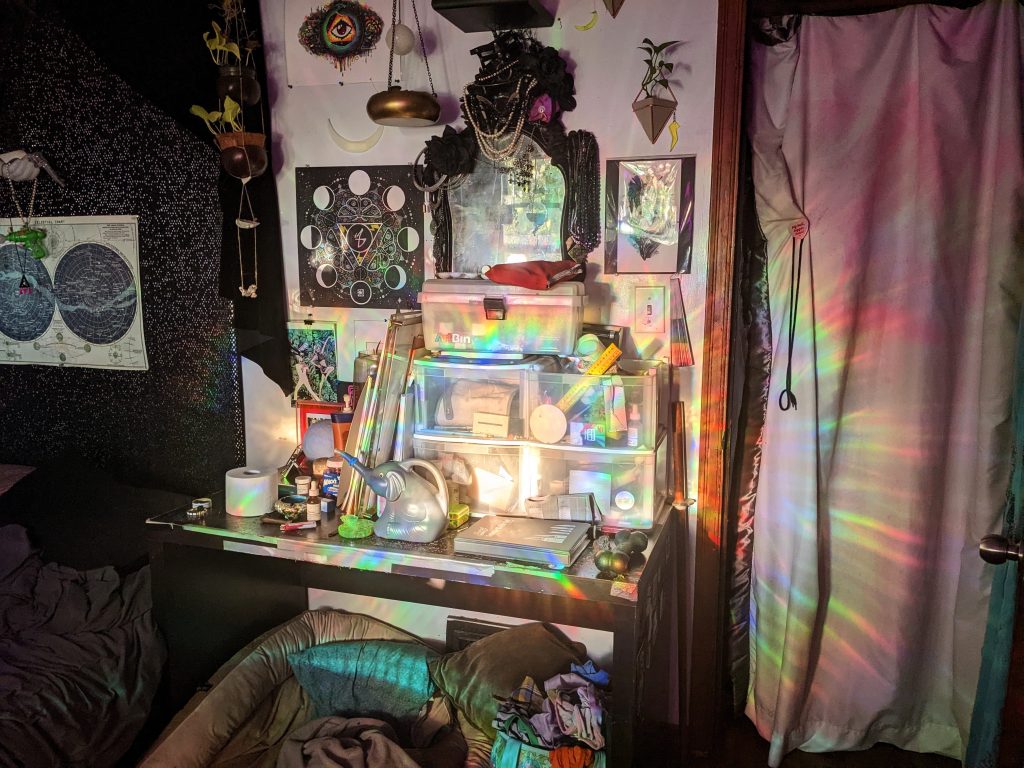 What do you get up to when you're not creating artwork?
I have two pit bulls, one of which is a 7-month-old puppy. Their beautiful faces take up a lot of my attention and time. I'm also working on a youtube film review channel due to launch this winter. And it would seem one good thing covid isolation did for me was develop a not-so-mild plant obsession. I've got over 60 plants and am building terrariums and plant walls while trying to find ways to grow food in the inner city amongst all the wildlife that would love to eat it. I grew enough lettuce for a salad and two cucumbers this year!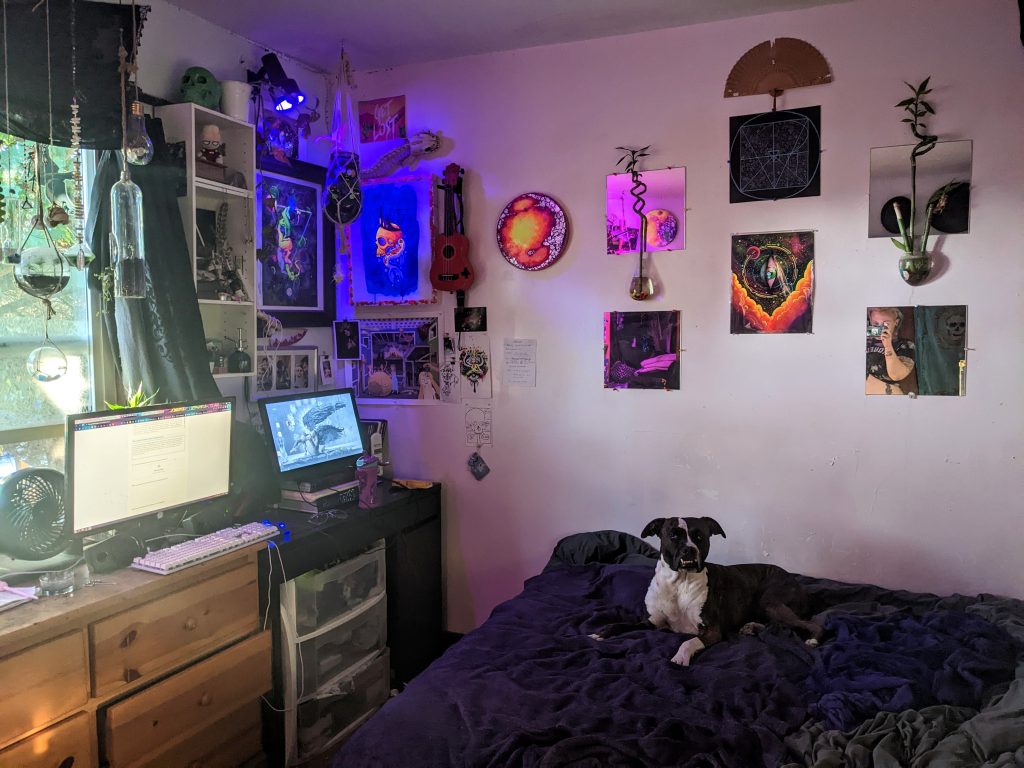 What is your favourite local cultural or art institution?
My years as a performer gave me great respect and adoration for The Rio theatre on The Drive. They've offered a home to many performers and hosted many amazing events that influenced me.
I've also worked with Tamara Bell and some of the fantastic indigenous communities in Vancouver. I'm incredibly impressed by their ability to create such important and striking artistic representations of the suffering these communities endured and continue to endure.
What are your goals in participating in the festival? Do you have any plans for after the festival or ways you hope the festival will help your practice?
I would love to meet some folks who would be interested in collaborative work or offer my skills to projects that could use an eager hand to come to fruition. I miss having a community that wants to see new and different art. I'm also hoping the larger community of CACV will give my art the kind of exposure it isn't getting through my effort alone. I'm looking for people that want what I can do.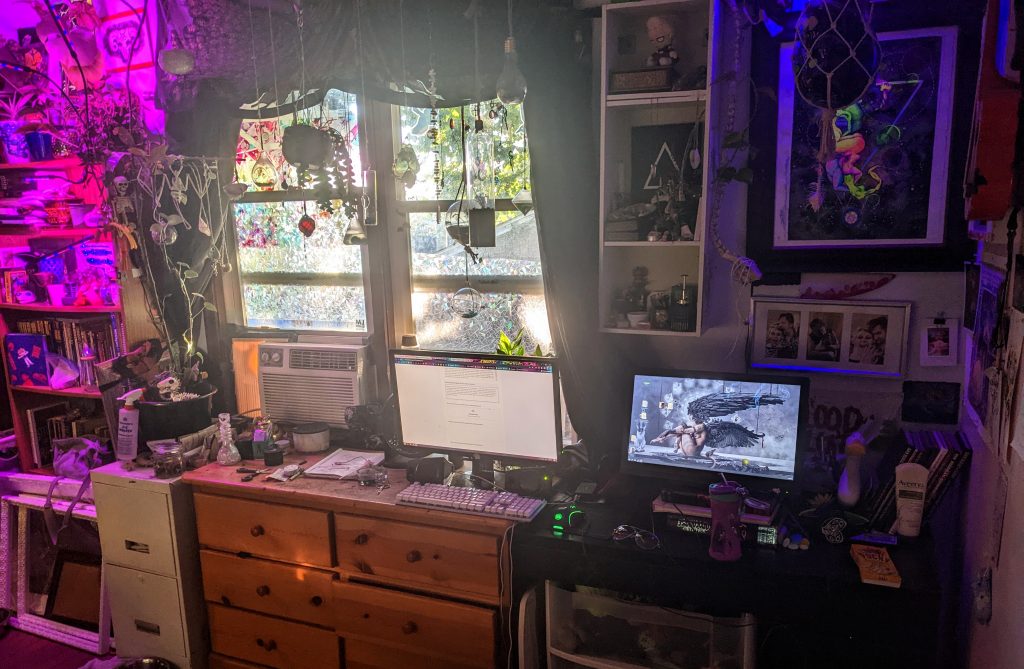 What do you hope people take away from viewing your artwork at the festival? Do you want them to feel a specific emotion or come away with new ideas?
I hope to evoke the spirituality of potential form. What we 'are' is both beautiful and ugly. In the uncanny valley lives the confusion of attraction and repulsion. The mind rejects what it sees but cannot look away.