VOAF 2022 Artist: Margaux Wosk (Retrophiliac)
Margaux Wosk (Retrophiliac) (they/them) is a disability advocate and self-taught artist showcasing her paintings at the 6th Annual Vancouver Outsider Arts Festival at the Roundhouse from October 14-16, 2022.
Creativity is in Margaux's DNA. Being neurodivergent helps them see things their own way. Expressing through art helps them connect to the world around them. They primarily work with acrylic paint and paint markers, they are also known to work with mixed media and digital works.
Click here for more information about the artist.
This interview has been shortened for clarity and consistency.
How do you think your artwork connects to "outsider arts"?
As someone who has refused to go to post-secondary to avoid debt, I believe being self-taught is how I connect to being an outsider artist. I have been excluded from cliquey art opportunities and actively ignored. Because of that, I've had to create my opportunities. My work is fun and cute, and I am worried that formal education, which I don't want, would change that and make my style more rigid and less intuitive.
What type of barriers do you face to creating artwork?
My barrier used to be financial. I'm in a better place now and have blank canvases in close proximity. But, I think that the biggest barrier is SPACE! Being able to create in my apartment is hard. Of course, I wish I had a studio space, but that's unrealistic.
How can CACV help reduce these barriers and support advancement in your creative practice?
I would love it if there were a free drop-in studio space. Not even supplies, but the SPACE! As we know, space in Vancouver is at an absolute premium, so this would help so many people.
Where did you get the inspiration for the artwork you are exhibiting? Who are your influences, and what other artists inspire you?
I am inspired by 1960s, '70s, '80s and 90s music and culture. It goes in my ears and comes through my hands – my artwork. I love artists like Piet Mondrian, van Gogh, and the masters. I love to express myself with colour.
Give a brief description of your creative process.
I usually have a few bins of paint markers and acrylic paint, and I put some music on, grab a canvas and start creating. It's pretty low-key, but I'm always surprised at what I create.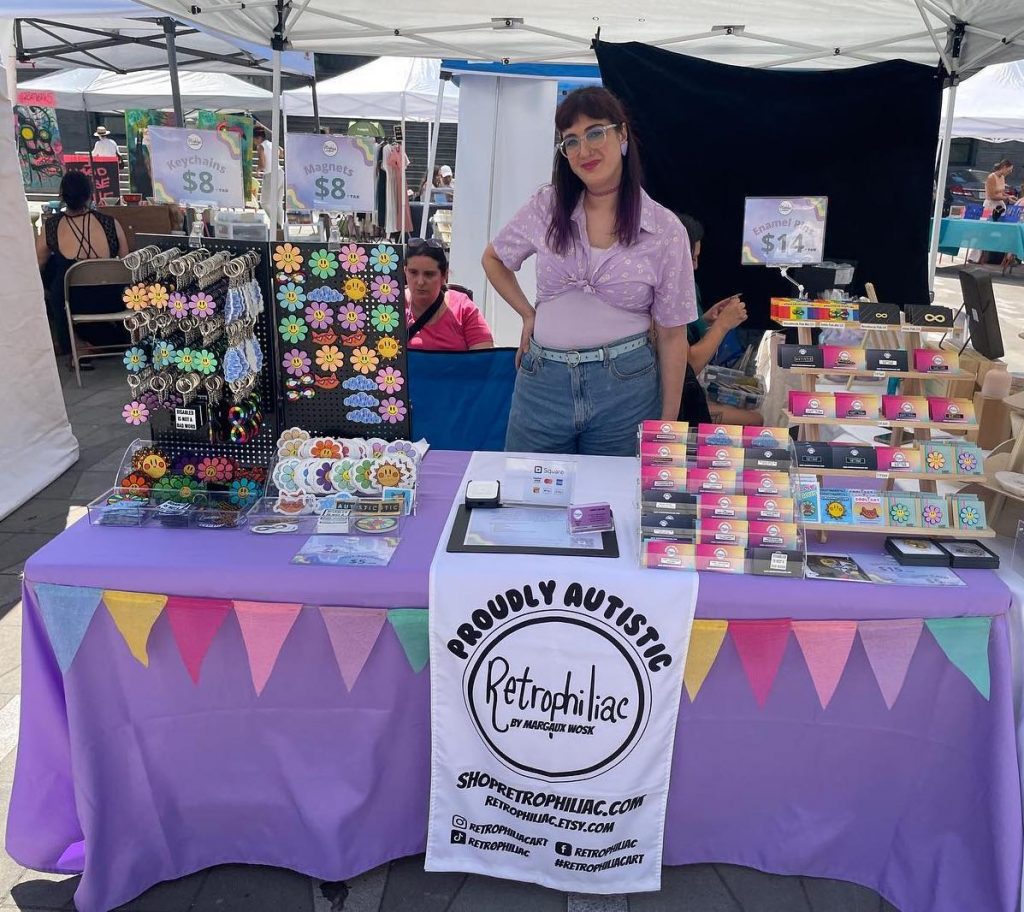 What do you get up to when you're not creating artwork?
I design and sell merchandise wholesale, and I'm in about 30 stores between Canada and the USA; I am also a disability rights activist and advocate. I'm part of the board of BC People First, a non-profit. I also planned an event on August 27th, 11-3 pm at Lot 19 downtown called We Belong! Market that gave opportunities to disabled artists, and we didn't charge them any fees to participate. I also enjoy spending time with my family, and I'm currently fighting for more resources for disabled small business owners/entrepreneurs. I have been at the provincial budget meeting two years in a row and talk to politicians whenever possible. "Nothing about us without us."
What is your favourite local cultural or art institution?
I adore Slice of Life Gallery & Gift Shop; it's an incredible place with many fun events. They also have given me an incredible opportunity to sell my items there.
What is your next project after VOAF?
I'll be part of the Inclusion Art Show by posAbilities, East Side Flea and hopefully some holiday markets! I'll also expand to selling over 100 items.
Do you have any advice for artists interested in applying for VOAF?
Just do it. Don't hesitate, even if you feel like you don't know what you're doing – you have nothing to lose.