VOAF 2022 Artist: Brandy Mars
Brandy Mars (she/her) is a lesbian business owner showcasing her paintings at the 6th Annual Vancouver Outsider Arts Festival at the Roundhouse from October 14-16, 2022. 
Since 2016, she has been running the gayest lil' gift shop in all the land. Her collection of art includes over 300 pieces aiming to bring representation to the LGBTQIA+ community. She has written and illustrated 2 children's books. This June was her first solo art exhibit in Vancouver.
Click here for more information about the artist.
This interview has been shortened for clarity and consistency. 
How do you think your artwork connects to "outsider arts"?
The LGBTQIA+ community has continuously been fighting for human rights, and I have been running "the gayest lil' gift shop in all the land" for over seven years. I've made over 300 pieces of artwork, focusing on inclusivity and community. People in the LGBTQ+ community often feel excluded and isolated. Visibility and representation are the strongest ways to counteract that.
What type of barriers do you face to creating artwork?
I constantly face censorship, even when it is just two women holding hands in a painting. Building my art business to the level it is at now has been a struggle, and I feel passionate about standing up for my artwork and the LGBTQIA+ community.
How can CACV help reduce these barriers and support advancement in your creative practice?
This show is a massive help to newly emerging artists.
Where did you get the inspiration for the artwork you are exhibiting? Who are your influences and what other artists inspire you?
Most lesbian artwork is over-sexualized. I wanted to create artwork that was a closer representation of what it's like dating and being in love.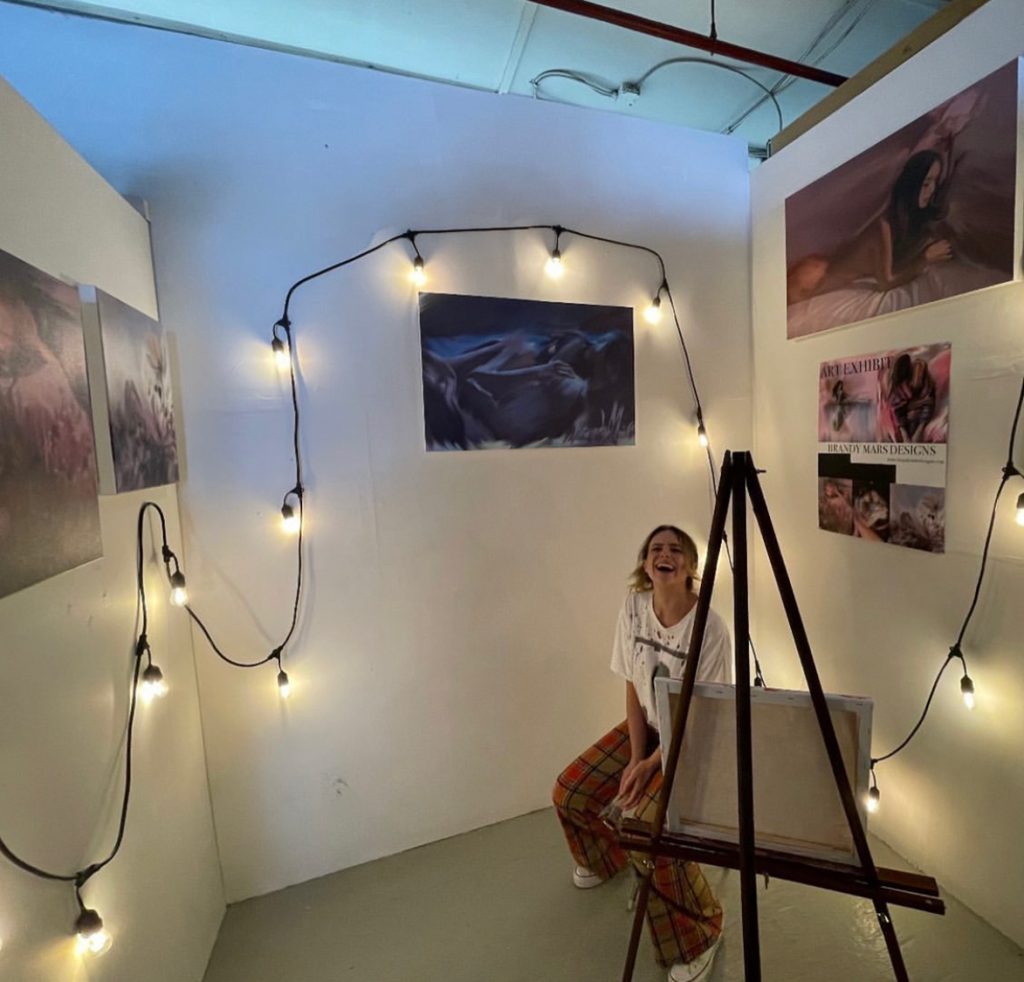 What do you get up to when you're not creating artwork?
TBH….I am obsessed with making art. It consumes about 95% of my life. I love my dog and hanging out with friends, especially at the beach! I go to many local LGBTQIA+ events and love meeting new people! It's super fun checking out new restaurants and supporting small local businesses! I also love clothes…probably too much.
What is your favourite local cultural or art institution?
I LOVE LOVE LOVE the Emily Carr University public art library. It is next level. I don't even have words. Have you seen the hammock there too?! Like, come on! What a dream to have such a big source of amazing art books that anyone can access!! It makes me feel lucky and grateful.
What are your goals in participating in the festival? Do you have any plans for after the festival or ways you hope the festival will help your practice?
This summer has been a blast doing Pride and local art events! I hope this event helps me to meet more artists and art enthusiasts. It means a lot to me that people have my art in their homes. What a huge compliment! My big dream/goal is to do a cross Canada or cross-world tour with my art. I have been brainstorming for a long time about the logistics. I believe this will happen next year if I stay focused and work hard. Fingers crossed, haha! But more important than finger crossing is just working hard.
What do you hope people take away from viewing your artwork at the festival? Do you want them to feel a specific emotion or come away with new ideas?
I hope my artwork helps people understand what LGBTQIA+ relationships are like; my art isn't just about lesbians; it's about human connection. And that is something I think we all want and need, regardless of gender or sexual orientation. I hope my art inspires people to be themselves and live their most authentic lives.