VOAF 2022 Artist: Amy J. Dyck
Amy J. Dyck (she/her) is a multidisciplinary artist with a disability showcasing her creations at the 6th Annual Vancouver Outsider Arts Festival at the Roundhouse from October 14-16.
Based in British Columbia, Canada, Amy J. Dyck's work is a unique mix of representational and abstract expressionism and strives to express something deeper in the human experience than can be observed by the eye. Using collage, oil paints and drawing mediums, and pulling from anatomical studies and visual research, her work is influenced by old and new masters and is always evolving.
Click here for more information about the artist.
How do you think your artwork connects to "outsider arts"?
On some level, I feel we all feel like outsiders, we are all unique, with our own challenges that others will not be able to understand. I have had a disability that has affected me for my entire adult life to varying degrees, often putting me in a wheelchair (among other symptoms). My artwork expresses what it is to be in a body that doesn't always work, and explores our human complexity and resilience that can emerge from living with and growing alongside hard things (including trauma).
What type of barriers do you face to creating artwork?
My condition makes most of my activities more challenging, including art making. I do my best to prioritize a balance of self care and work.
Where did you get the inspiration for the artwork you are exhibiting? Who are your influences and what other artists inspire you?
My art took a turn in 2017 after an intense wave of illness hit me. In the middle of pain and disability I was searching for a way to authentically express my experience of a body that wouldn't do as it should, and of self that was in conflict, confusion, and looking for strength. 
In 2018 I took a mentorship program with Justin Ogilvie in which he pushed me towards more expressive and experimental techniques. This push led me in new directions that then became important for my work going forward. 
I LOVE artists who are experimental and expressive in their exploration of the human body or experience, and who also incorporate technical skill into their work. Here are some examples: Carolyn Westerhout, Nicholas Oleary, Ruprecht Kauffmann.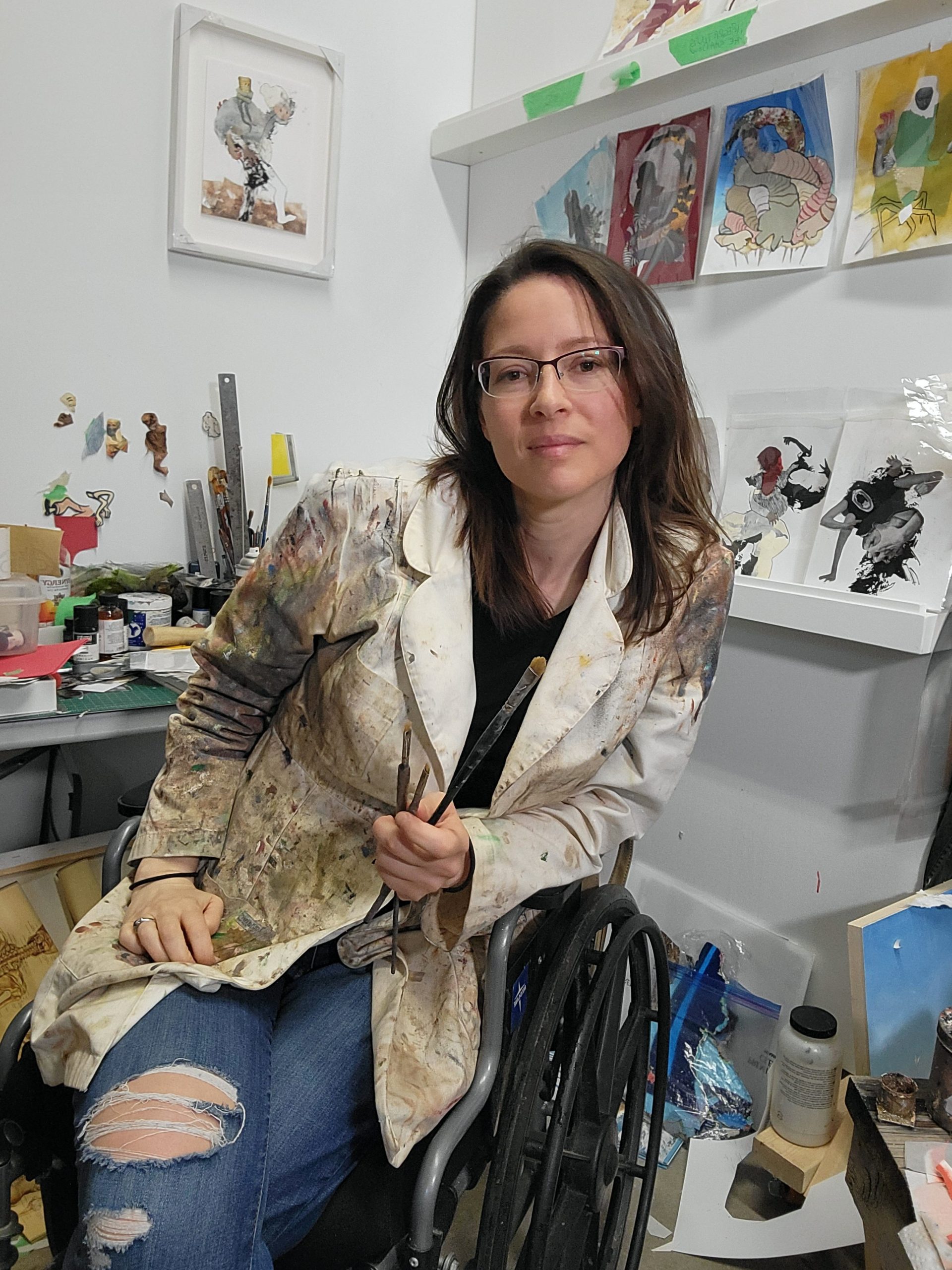 Give a brief description of your creative process.
Lately I start with collage. I'll collect photographs of the body along with tools and supplies like paint, Charcoal, sandpaper, and begin to assemble a character. I build each up, or cut them away, and create layers and complexity until I have a figure that feels whole and dignified in the midst of the chaos.
Sometimes I choose to expand the ideas in the smaller works into larger oil paintings, Charcoal drawings or even clay or wooden sculpture. can be expanded into larger paintings, or even sculpture as I expound on ideas with oil paint, charcoal, clay and wood.
I have moved away from predictable outcomes in exchange for an experimental and process-oriented path towards creating art, where surprises and exploration are welcome. This means paint drips and strange colour combinations, surprising materials or forms, etc.
What do you get up to when you're not creating artwork?
I have a partner and two teenagers and love kayaking and getting out to see beautiful things.
Do you have any plans for after the festival?
I am excited about an upcoming joint exhibition at The ACT Arts Centre in Maple Ridge from Jan 7 – Feb 27 with artist Monique Motut-Firth.