VOAF 2022 Artist: Ankha Sita Qualia
Ankha Sita Qualia (she/they) is a queer immigrant, teacher and cancer survivor showcasing their artwork at 6th Annual Vancouver Outsider Arts Festival at the Roundhouse from October 14-16, 2022. 
She is an avid lover of creativity and the human spirit. She has a keen eye for others' gifts and is inspired to support them, being the biggest fan of her clients. They completed 2yrs of diploma studies in Vancouver Film School for Foundation of Art & Design + Screenwriting as well as Jewelry Design; afterwards pursuing studies in mindfulness, non-violent communication, intentional creativity coaching, and art therapy.
Click here for more information about the artist.
This interview has been shortened for clarity and consistency. 
How do you think your artwork connects to "outsider arts"?
My artwork exists in the genreless realm, as I am an explorer & an experimenter. I have felt like an outsider my entire life, and now, as a queer immigrant I feel it even more. I have survived cancer & have lived with chronic conditions. I have persevered in my creativity throughout multiple traumas to come to the place of profound certainty for what I want to create on my journey. And I'm just getting started.
What type of barriers do you face to creating artwork?
I'm rarely able to paint for many hours, as fatigue, exhaustion or inflammation can kick in. Also, lack of access to certain schooling. I also realize I don't want to rush the process too much. I need time.
How can CACV help reduce these barriers and support advancement in your creative practice?
Grants, paid exhibits & places to sell my artwork is a motivation to make it, no matter how hard it may feel. Mentorship from the right artists & access to special kinds of art studios (ceramic, wood, resin accessible) / residences would also make me the happiest person ever to play around & create full blown projects & art shows.
Where did you get the inspiration for the artwork you are exhibiting? Who are your influences and what other artists inspire you?
Impressionists like Renoir, Monet, Van Gogh, abstract expressionists like Hilma af Klint & visionary artists like Tessa Mythos, Autumn Skye and so many more.
Give a brief description of your creative process.
I have been developing a creative ritual, that is a sacred practice. It usually starts long before I actually get into my home studio, as I wake up & meditate to anchor the positive state I need to create, do yoga & journal. I also channel what needs to be done next, I learned that from being blocked & procrastinating.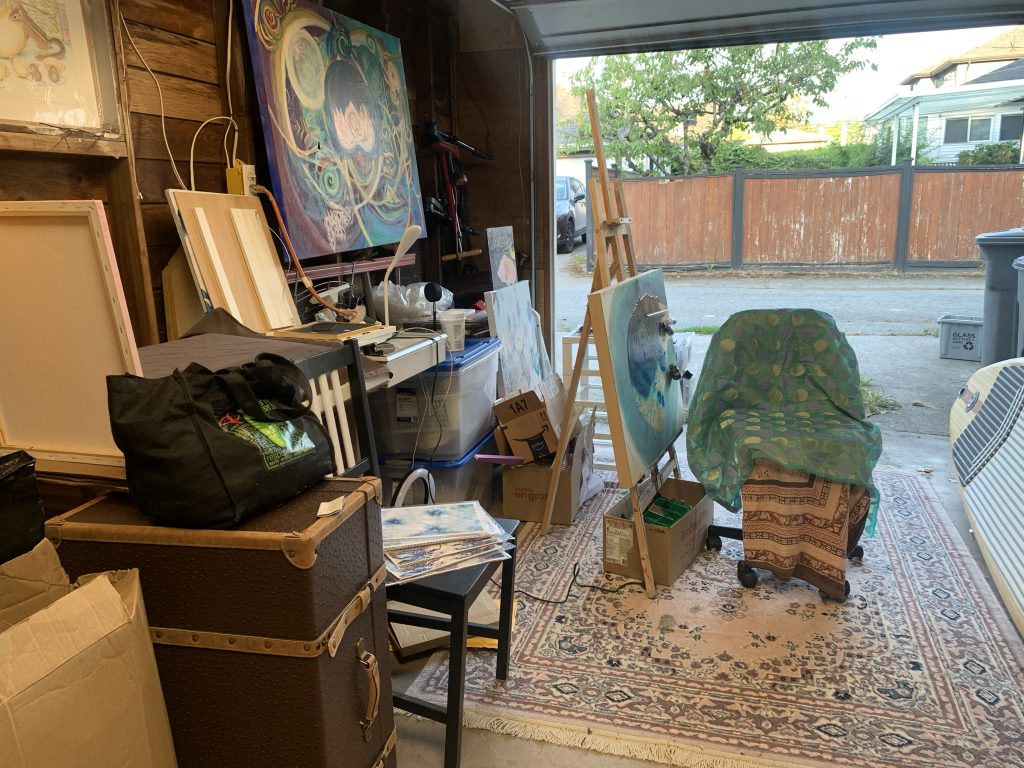 What do you get up to when you're not creating artwork?
Dialling down spiritually & wellness practices into habits, studying, creating content, watching YouTube and working to survive in Vancouver.
What is your favourite local cultural or art institution?
I think Vancouver Fringe Festival & Queer Arts Festival are absolutely incredible. Culture Crawls are a genius idea, as it unites people. I also like the million of art studios that Emily Carr has! Years ago I almost entered the university for my bachelor's degree. I would like to check out Polygon Gallery, as I think they showcase some very special art.
What are your goals in participating in the festival? Do you have any plans for after the festival or ways you hope the festival will help your practice?
I hope to have a new audience of people that would be intrigued by my art & would love to connect with me. It would be nice to increase my following on social media (instagram & youtube) & get sales from genuine art collectors or gift seekers. Ideally, I would also consider working with some galleries for representation or solo & group shows.
What do you hope people take away from viewing your artwork at the festival? Do you want them to feel a specific emotion or come away with new ideas?
I want them to connect to ethereal & primal realms of brush stroke, colours & energy that I put into this work that I've done over the years