VOAF 2022 Artist: Migy B
Migy B (he/him) is an emerging self-taught Latino artist showcasing his paintings at the 6th Annual Vancouver Outsider Arts Festival at the Roundhouse from October 14-17, 2022.
Coming from an incredibly artistic family, he was surrounded and inspired by various types of art as a kid. However, he only started painting a handful months before the pandemic hit. Painting began as a way to get closer to his family but quickly blossomed into finding his true calling as an artist. Working predominantly in acrylic, his styles range from realism to modern abstracts, which includes his signature acrylic dripping style.
Click here for more information about the artist.
This interview has been shortened for clarity and consistency. 
How do you think your artwork connects to "outsider arts"?
All my paintings directly reflect my personal experiences as a Latino living in Vancouver whose interests and values differ from most of those living in this city, so offering something different connects with what I think "outsider arts" represents.
What type of barriers do you face to creating artwork?
Being completely new to the scene is probably my biggest barrier. I need to start networking from the bottom and surprise those I already know with my newly discovered passion. Being Latin in this city also doesn't offer many benefits when discussing opportunities.
How can CACV help reduce these barriers and support advancement in your creative practice?
Provide more opportunities/exposure for new *talented* artists to participate in shows and events to grow their following; this is why the Outsider Arts Festival is so great.
Where did you get the inspiration for the artwork you are exhibiting? Who are your influences and what other artists inspire you?
My inspiration comes directly from my past/current experiences, which can be from travelling, meeting someone, a specific interaction or simply something that catches my eye and evokes a feeling. My influences are my grandma, sister and mom. Picasso's range in painting styles and Le Corbusier's range in mediums/crafts inspire me as I don't believe an artist should only be known for one style or medium.
Give a brief description of your creative process.
Socialize, eat, drink, take photos and enjoy what's in front of me. You can't be inspired by staying in your apartment and saving money. If I have an idea while I'm out and about, I write it down or take a photo for reference. Then that idea swishes around my head until I'm ready to put paint on canvas.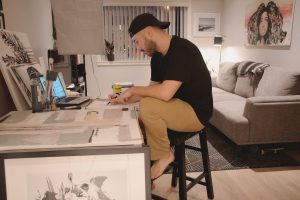 What do you get up to when you're not creating artwork?
Listen to music, play soccer, go for runs, go for dinner, watch movies, ski, drink with friends and the list goes on. Though in the summer, you'll find me wherever you can get a sunburn, aka the beach.
What are your goals in participating in the festival? Do you have any plans for after the festival or ways you hope the festival will help your practice?
I hope my artwork turns some heads and I meet some new people broadening my work's audience.
What do you hope people take away from viewing your artwork at the festival? Do you want them to feel a specific emotion or come away with new ideas?
My work is an assortment of paintings right now since I'm nailing down various styles that excite me. Still, perhaps I hope my artwork feels biographical in a way where you can relate to a certain painting due to the theme or emotion we both may have shared.