VOAF 2022 Artist: Val Fishman
Val Fishman (she/they) uncovered her love for painting as a senior and will be exhibiting a collection of landscape paintings at the 6th Annual Vancouver Outsider Arts Festival at the Roundhouse from October 14-17.
Five years ago, just prior to retirement, Val decided to take a leap of faith and joined a Senior's art class. She found that her sense of self was impassioned as she worked with colour and the smooth movements of brush and stroke. She loved the results of quick sketches and what the eye could grasp in a brief moment in time. She loves working with acrylics for their bright and dense colour! She paints outside every chance she gets in the surroundings that she loves. Every brush stroke and dab, every colour mixing pulls more passion out of her. It has become the place that she lives.
Click here for more information about the artist.
This interview has been shortened for clarity and consistency.
How do you think your artwork connects to "outsider arts"?
I'm 75, a dyke, was a single parent for most of my kids life, a Jew, a witch and lower working class! I've never taken classes but have started painting in the last 5 years with other seniors! I discovered I love sketching in quick scratches and painting landscapes outside in most weather!
What type of barriers do you face to creating artwork?
Financial and lacking self confidence
How can CACV help reduce these barriers and support advancement in your creative practice?
Yes, until I found out you didn't select by what you liked but by lottery! Then, I decided to forget that and flaunt my love of painting instead!
Where did you get the inspiration for the artwork you are exhibiting? Who are your influences and what other artists inspire you?
I love the movement and passion in Van Gogh, in Emily Carr and Lawren Harris! Bold colours that lift my heart and celebrate life with me!
Give a brief description of your creative process.
In this heat , I'm not going out much , so look at the copious photos I've taken and pick one that calls to me…then paint it off my laptop! When I'm outside I walk a little till I'm called to a scene and the forms and structures in it.
What do you get up to when you're not creating artwork?
I'm a feminist and a senior so I'm constantly zooming to do magic, take classes, knowledge network tv, or conversation, learning about indigenous and other peoples lives or in an elders group… and I walk 5-10,000 steps a day, visit friends, family, Queen E park… these things inspire me.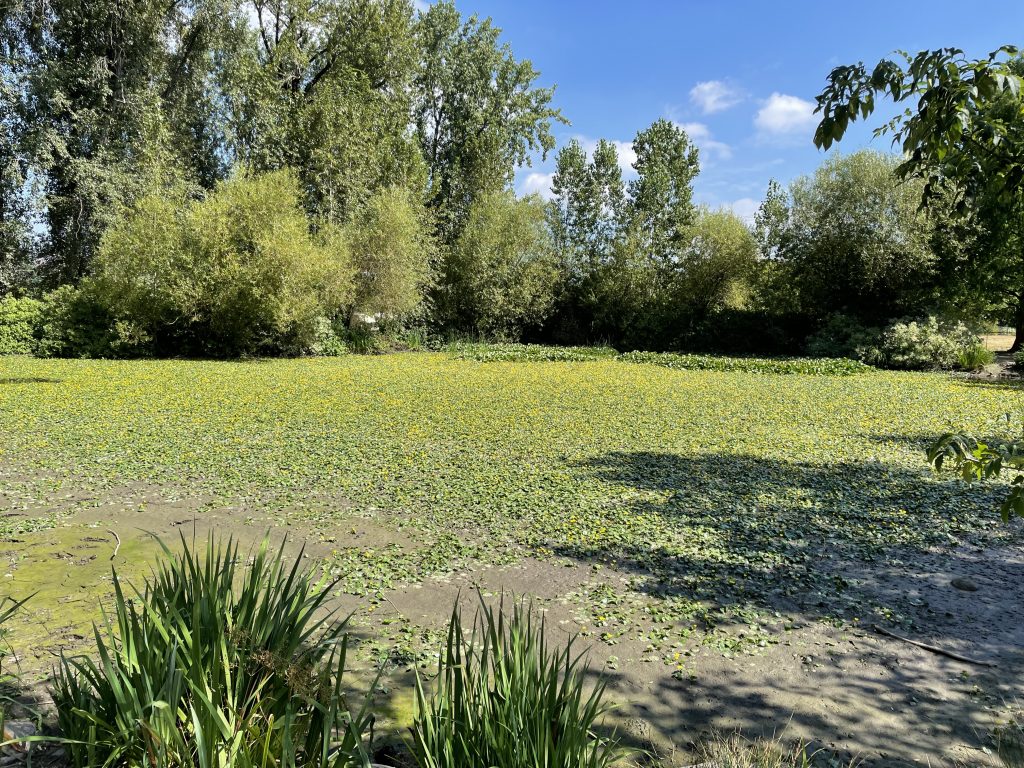 What is your favourite local cultural or art institution?
Roundhouse- I love to see the creative art shows of peoples that would have no other avenue to show.
What are your goals in participating in the festival? Do you have any plans for after the festival or ways you hope the festival will help your practice?
My main goal is to bring what I love …to share with others! I never imagined I'd be willing to do this!
What do you hope people take away from viewing your artwork at the festival? Do you want them to feel a specific emotion or come away with new ideas?
I want them to draw, paint, act, sing and play their way into their own creative selves…